Wiki says: "Daniel Ladinsky is an American poet. He was born and raised in the Midwest United States. Off and on over six years he spent extensive time in a spiritual community in western India, where he worked in a rural clinic free to the poor, and lived with the intimate disciples and family of Meher Baba. In introductions to his Hafiz poetry, Ladinsky notes that he offers interpretations of the poet Hafiz, rather than translations. He believes that it is more important to convey the emotions in Hafiz's poetry than to keep the same rhythm in the English language, and he uses the most simple words possible.
"Since the release of Ladinsky's first book,
I Heard God Laughing
, his ostensible renderings of Hafiz have become widely quoted, though many point out that his poems are originals, and not translations or interpretations of Hafiz. Christopher Shackle describes
The Gift
as 'not so much a paraphrase as a parody of the wondrously wrought style of the greatest master of Persian art-poetry.' The fact that Ladinsky's poems do not actually represent Hafiz' work was a source of embarrassment for Dalton McGuinty, the Premier of Ontario, when it was discovered that the poem McGuinty had recited from Ladinsky's book at a Nowruz celebration in Toronto had no corresponding Persian original.
"Ladinsky's work has garnered positive commentary from Akbar S. Ahmed, has been favorably endorsed by The Christian Science Monitor writer, Alexandra Marks, and has been quoted in contemporary Muslim American non-fiction. Some hail Ladinsky's contemporary work for creating an immediate access to the spirit and intention of Hafiz' verse. Ladinsky authored a short essay in the form of an Amazon.com review, entitled
My Portrait of Hafiz
, that offers a description of the process and background of his work. The Islamic Foundation of North America has used Ladinsky's
The Gift
in a children's Islamic Literature curriculum. Ladinsky has also reviewed contemporary poetry, such as
Full on Arrival."
I have written before of how I fell for Hafiz as Ladinsky edited and translated him. I don't really care if it is Hafiz or Ladinsky (as some argue) who really wrote the poems. I guess what a criticism like that means is if I read someone else's translation I would not easily recognize the poems. I am no purist and also I have a way of spinning off of the work other people do. Many of my poems arise in that way, not that I reframe someone else's work. Sometimes it is only a word or a phrase.
Here is an example, an excellent example of Ladinsky/Hafiz posted on
PJA64X
by Philip Arnold back in 2009:
We should make all spiritual talk
simple today:

God is trying to sell you something
but you don't want to buy.

That is what your suffering is:

your fantastic haggling
your manic screaming

over the price.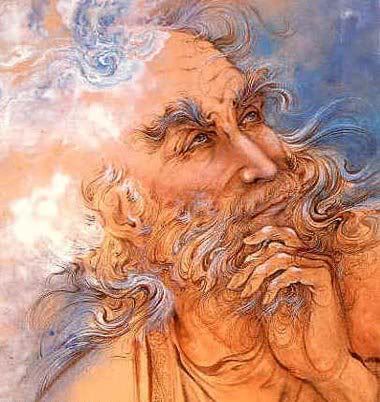 Hafiz-e-Shirazi (1315 – 1390)
Translated by Daniel Ladinsky
Irani painting of Hafiz by Mahmoud Farshchian
Back in the early days of blogging I was visiting many sites regularly and writing frequently. I dared to make the assertion that I was going to be writing two poems a day. I did that for over a year. Recently, knowing that no one goes back there I have started reprising poems from the early days, though I blog new intros for them. Between the reprises and all the writing I have done, I still have 390 poems I have not yet posted. I am still calling these poems up from December of 2009 and posting them as fresh not yet posted poems. I am moving forward from there.
To say these poems are "mine" is just odd. All of them are collaborations.
A Collaboration
(Patterned after Hafiz/Ladinsky)
My poem always sits stunned,
chained, unable to move beneath
your magnificent beauty.
It is essential
for my heart's coronation
for my poem to realize
there is nothing but divine
movement behind you
in this world.
December 4, 2009 11:30 AM